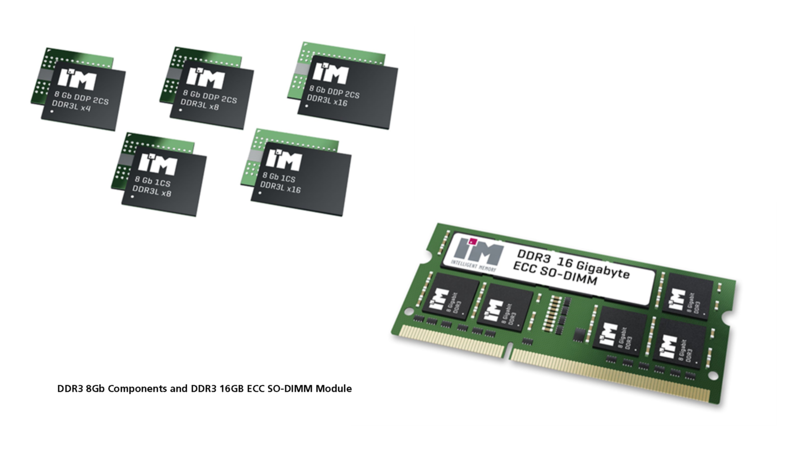 2022-11-03
Intelligent Memory Has Thousands of Plans
This article was translated from Chinese. To read XCC's full news article, click here.

1 Xinwen Road, China, November 3, 2022 – With the continuous development of 5G communication, artificial intelligence, automotive, Internet of Things, cloud computing and other high-end technologies, storage development has also taken a step forward, with the market moving toward higher capacities, wider temperature ranges, and longer life cycles. As a global company, Intelligent Memory (IM) has focused on serving the industrial memory market and top, leading customers for many years, supporting the continued development of their customers in various sub-industries within the industrial market.

The DDR3 8G product line covers the whole range, and their star product shines brightly

Memory is the pillar business of semiconductors. Its huge market volume can largely affect the boom fluctuations of the semiconductor industry (memory is more cyclical than the semiconductor industry itself); according to WSTS statistics, the global memory industry market size in 2021 was $135.3 billion USD, an increase of 13.32% year-on-year.

IM Sales Director, James Huang, said that as an established international vendor, IM offers a full range of storage devices and is very focused on providing high quality DRAM components and modules, as well as NAND Flash components and modules. Within the DDR3 components, IM now has a full range of 8Gb product lines, namely x4 2cs, x8 1cs, x8 2cs, x16 1cs, and x16 2cs.

For the memory industry, there is a need for uniform standards across the board: For terminology, definitions, product feature descriptions, definitions of memory, DRAM, Flash memory cards and modules, and radio frequency identification (RFID) tags. The development of standards determines the height of the industry and the threshold of the products. JEDEC (Solid State Technology Association, the leading standards body for the microelectronics industry), founded in 1958, is a global company that sets standards and specifications for the entire industry.

Most of IM's products are compliant with JEDEC standards, which means that from the very beginning, IM's development direction is oriented globally to serve the highest standards of industry customers. Among IM's many products, DDR3 SODIMM is one of its main memory module products which is not only fully compliant with JEDEC standards, but also able to provide maximum capacity of up to 16GB in 2 columns (Rank). The high performance and high quality of the product features have enabled IM to procure customers from all over the world, and thusly the brand is being highly recognized by users worldwide.

IM grows and advances with its customers by staying true to its roots

A lot has changed since the COVID-19 outbreak in late 2019, but for the industrial market, there are many new applications and business developments that continue to thrive. In response, Mr. Huang said, "We can't change the world, but we will continue to retain our resources and business to grow with our customers."

Over the past years, memory technology has further expanded with the unprecedented growth in programs and applications like data sets and complex code, 3D model rendering, 8K video editing and high frame rate gaming, as well as with the increasing number of CPU cores. Therefore, the memory market demand continues to rise. This scenario has led to the creation of DDR5 memory, which is capable of significantly increasing bandwidth to meet consumer demand for content creation, content distribution and content consumption.

According to Mr. Huang, DDR5 is the latest technology that will begin to flourish in 2023, and DDR5 will also become mainstream in the future to support the latest generation of AMD and Intel CPUs. However, IM also points out that in today's application market, some older technologies, such as DDR3 and even SDRAM in the industrial market, are still widely adopted in non-performance oriented applications. And as far as industrial market customers go, they are more concerned with product stability, quality and long-term support.

Mr. Huang believes that storage devices need higher quality and capacity, faster speed, smaller package size and broader operating temperatures. In IM's view, faster product development cycles and time-to-market are the keys to growth and success in the storage market. Therefore, IM always strives for excellence in its traditionally superior products and continues to plow deeper and deeper into the storage market with superior product strength. Meanwhile, in the area of emerging technologies, IM is actively innovating. They said, "In addition to standard and embedded ECC DRAM components, smaller process technologies and higher capacity applications will continue to be adopted into our DRAM products, such as DDR3 16Gb. For DRAM modules, we have 16GB mainstream form factor DDR5 modules, unbuffered and buffered LDIMMs and SODIMMs, and will provide customers with both optional ECCs."

We're not just experts at what we do. We are also dreamers and risk takers, but most importantly, we're achievers. Founded in 1991 in Hong Kong, Intelligent Memory has grown steadily over the past three decades, and its global customers have witnessed its growth and strength as it continues to surpass its limits and scale new heights. It will, within the storage industry, continue to shine.